Besides me getting used to being a stay at home mom, things have been pretty uneventful around here. Which is a good thing! So, just a few highlights from the past couple of weeks.
A few weeks ago, Jocalyn from
Kendall's Hope Blog
, sent me request to become a fan of
3E Love on Facebook
. I immediately fell in love with the wheelchair heart symbol Stevie is promoting on his page to: "Embrace diversity. Educate your community. Empower each other. Love life." I told Curtis that if I were to ever get a tattoo, that's what I'd get. Little did I know that I would soon be at the tattoo parlor getting my very first tattoo at age 36! That was on 8/8/10. The next Sunday, 8/15/10, Curtis went back and got his tattoo. We got them in honor of Wade getting his very first wheelchair. It's amazing how powerful a symbol can be. In fact, Curtis said it best in a FB post to Stevie: "It's amazing how a symbol can help you embrace something. Our son has CP and is getting a wheelchair, we purchased his first van this week. It was a hard pill to swallow but on the other hand very exciting. Soon he will have freedom beyond his mind. This symbol has really helped me to embrace things and I was proud to get the tattoo to celebrate the beginning of a new chapter for us... It's helped me cope with things and instead of dreading the challenges I embrace them now I am forever thankful. And honored to have this symbol." So, thank you to Jocalyn for sharing this page, and thank you to
Stevie
and his sister for spreading the love!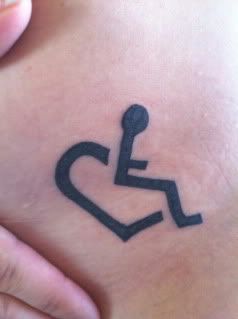 My tattoo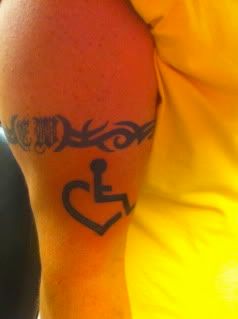 Curtis' tattoo

Last Saturday, after much research and discussion, we finally purchased our new van. At one point, it was between a Chrysler, Honda, and Toyota. The Chrysler had the most options, the Honda had the best third row seating, and the Toyota drove the best. However, the Honda was a close second as far as driving the best. The Chrysler was just too heavy. We decided to go with the Honda, then when we got to the van shop, I decided to look into the Toyota again. They didn't have one on the lot, but could get one from Mesquite. It fit the bill and was a little cheaper than the Honda, so we decided to go with it! I'm absolutely thrilled with our decision, and I have absolutely no buyer's remorse--which is really good for me! Even though we don't have the wheelchair yet, this van has already made things so much easier! I can stand in the van and easily move from the front to the back when needed. I don't have many pictures yet, but when we get the wheelchair next Thursday, I'll get some shots.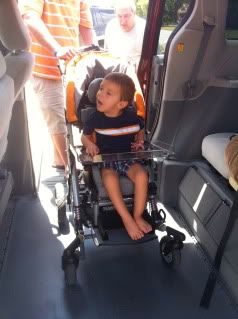 Wade rolling into the van soon after we bought it!

In honor of Wade starting PPCD, his aunt Jordan sent him a new back pack and a few things to go inside.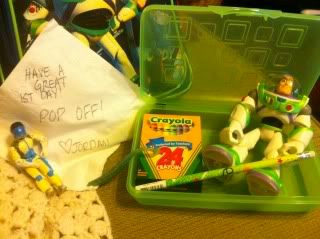 Included with the back pack was a supply box, pencil, box of crayons and first day of school note. Typical stuff. I texted her and questioned her about the action figures and fishing lure. Her response, "Jenny. Every kid takes toys in their back pack. And the fishing lure is for show and tell." Well of course! What was I thinking??? Wade is so lucky to have such an awesome aunt who loves him so much!
I still can't believe Wade is starting school on Monday!!! Tomorrow evening is "Meet the Teacher." Stay tuned for a full report about the first day!